Let Microtargeting give you the best conquest auto targets
The global automotive business is a competitive world, and you need the right partner to bring new customers to your car lines. Let us help you find the right prospective targets, at the right time, and help you talk to them in the right way.
Read more about Haystaq and how we create our Models.
HaystaqDNA, pioneers in the field of Microtargeting, can help you move your business into high gear. Our proprietary big data algorithms and predictive analytic models ensures that you only talk to the best possible customers. This is more than just lead generation off of a stale commercial file. All of our modeling is done at an individual level. By combining the best in consumer demographic and psychographic analysis with extensive automotive ownership data and "in-market" timing indicators (refreshed bimonthly), Haystaq determines what car buyers will buy next, not just what they have bought in the past. We look at over 1,200 individual attributes (demographic, lifestyle, financial, etc.) that make up each profile in our database. For each model we create a predictive score for all 260 million consumers allowing for individual level outreach. Our sales leads have been compared to and beaten Polk/IHS, Experian and many others.
Read our white paper on how AutoHQ models improved conquesting for a major, luxury OEM.

More than just Automotive List Buying
While you can simply buy sales lead lists from us (
CONTACT US
, to give our lists a try), Haystaq's world class user interface, the Automotive Microtargeting Engine (AME) allows you to take customer prospecting to the next level.
Read More about AME.
This web based UI allows your marketing department to see where their best targets are – all the way down to the household level. You can select targets from a selection of zip codes, major metro markets, or within a defined distance from a single point (a dealership, an event location, etc.). Higher levels of AME will even incorporate your own dealer maps. Customers can be targeted via email, direct mail, social media, digital, or even addressable TV.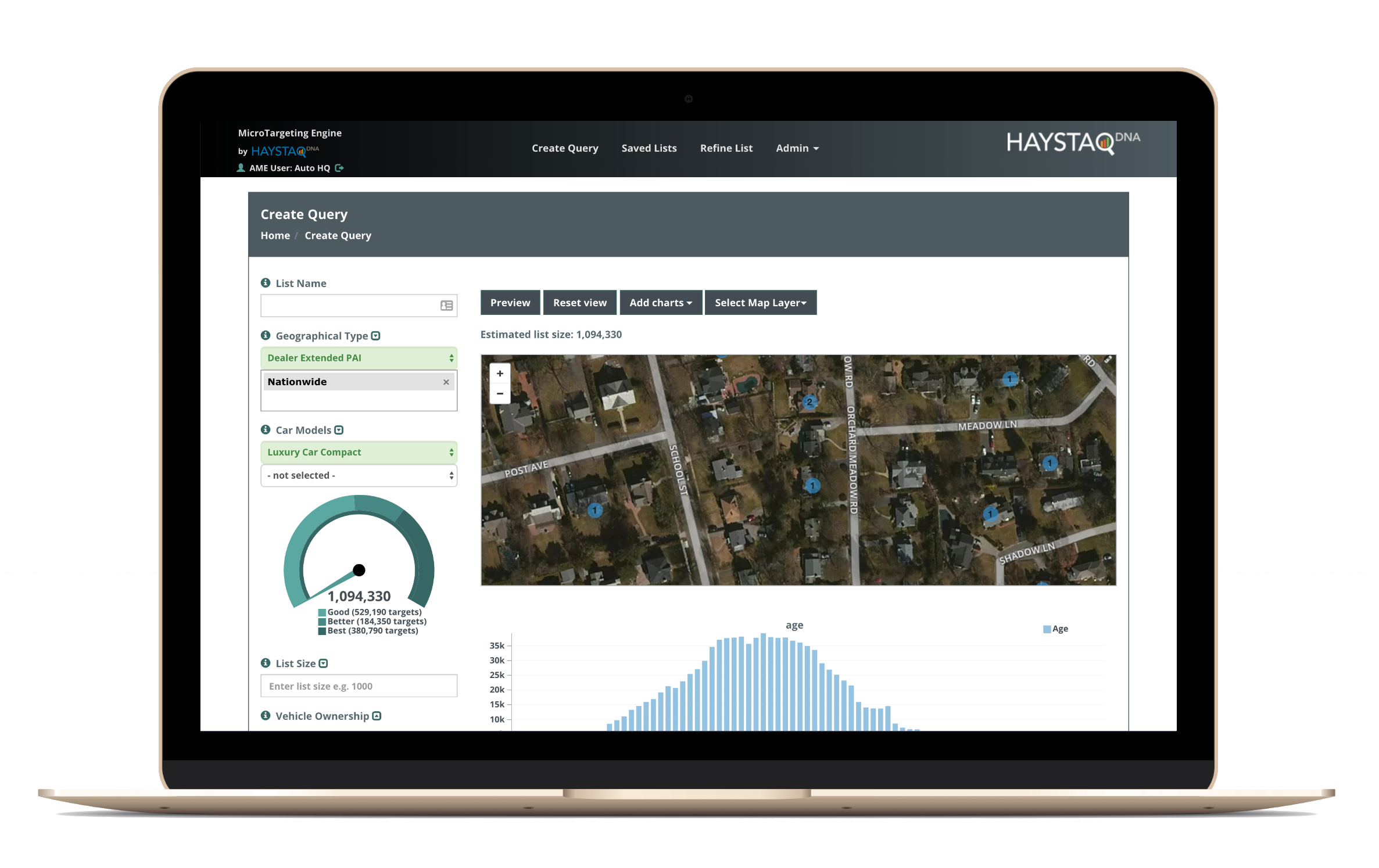 Different plans for different needs
AutoHQ, HaystaqDNA's automotive solution, supports the automotive industry at every tier, from local dealers to global OEMs. In order to offer the right service at the right price, AutoHQ AME interface is available at three levels:
| | | | | | | | | |
| --- | --- | --- | --- | --- | --- | --- | --- | --- |
| Level | Custom Look-alike CRM Models* | Custom Garage Models† | Segment Based Models§ | "In-Market" Indicators | Integration of your Dealer Maps | Basic Demographic Filters | Basic Lifestyle Models | Custom Lifestyle/Social Models‖ |
| Platinum | | | ‡ | | | | | |
| Gold | | | ‡ | | | | | |
| Silver | | | | | | | | |
* Created using your CRM Data
† Created using competitive vehicle ownership (garage) data
‡ placeholder models while custom models are developed
§ AutoHQ segment models based on competitive vehicle ownership (garage) data
‖ Based on Haystaq Survey Research
At the moment AutoHQ solutions are available in the US, but we have worked successfully in Europe and other regions. Does AutoHQ AME sound interesting, but not quite right for your needs? We also offer custom Automotive analytics services.